Gastrocare – Gastroenterology Super Specialty Hospital of Central India, centrally located in Bhopal city.
At Gastrocare, we believe "Patient comes First". This state-of-the-art Gastroenterology facility is focused on compassionate care with a human touch for caring our patients.
We have a team of dedicated, highly qualified & well experience doctors utilizing state-of-the-art technology, backed up by courteous administrative staff to provide complete patient satisfaction.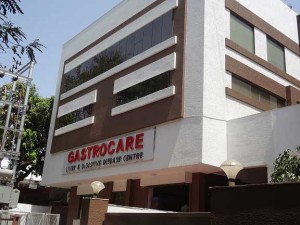 The hospital has all kinds of patient rooms from General ward to deluxe room along with in-house complete Radiology (including X-ray, USG) and comprehensive pathology services with support of emergency & critical care unit.
The hospital is a territory referral centre for many gastroenterology diseases including Acid Peptic disease (Ulcer, GERD and Hiatus Hernia; Acute & Chronic Pancreatitis, Inflammatory Bowel Disease (Including Ulcerative colitis, Crohn's disease & Tuberculosis); G. I. Cancers, Lap. Obesity Surgery & Complicated GI diseases.
The hospital offers facilities for state-of-art HD video Endoscopy; HD Video Laparoscopic Surgery, Endosonography; 24 Hour Ph metry & Manometry, Capsule Endoscopy & Argon Plasma Laser Coagulation.
Now we have the Fibroscan echosens 502 – first time in Madhya Pradesh
We assure that along with your best treatment, you shall have a pleasant experience at Gastrocare.