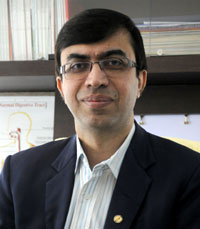 Dr. Sanjay Kumar did his MD (Gen. Medicine) in the year 1992 from Bhopal University and secured First Position among the list of selected candidate for M.D. (Medicine) at Gandhi medical college, Bhopal and hence worked as Demonstrator in Medicine from July 1990 to July 1992. Further he secured First Position among the list of selected candidates from D.M. (Gastroenterology) in all India Level entrance examination at PGI Chandigarh in June 1994 and was awarded DM (Gastroenterology) in 1996.
He has more than 20 years of professional experience of working in internal medicine including Gastroenterology – since Aug 1990 and working in exclusive medical gastroenterology since Aug 1993. He has been on various reputed position during his tenure at Gandhi Medical College, Bhopal, Holy family Hospital, New Delhi, Christian Medical College, Vellore and PGIMER Chandigarh.
He established Global Liver and Gastroenterology Centre, Bhopal in 2006 and was involved in developing Gastroenterology as a specialty in central India. Now in 2012 he has started his new venture – "GASTROCARE Liver and Digestive Disease Centre" in Bhopal which is an exclusive set up for comprehensive GI care and Gastroenterology Services.
He is the member of Indian Society of Gastroenterology, Society of Gastrointestinal Endoscopy of India, American college of Gastroenterology and American Society of Gastrointestinal Endoscopy. He has more than 20 Research papers published in various International Journals.
He has been invited by American College of Gastroenterology to present his paper in annual conference in 2010 at San-Antonio and 2011 at Washington DC.
He has been invited by American College of Gastroenterology to present his poster in annual conference in 2012 at Las Vegas